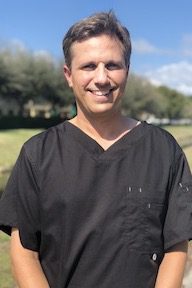 Dr. Kevin Brown – DDS
SPECIALTIES, TRAINING & AREAS OF PRACTICE: General Dentist
EDUCATION: DDS. University of Toronto School of Dentistry. Residency. Hartford, CT
PROFESSIONAL MEMBERSHIPS: American Dental Association. Florida Dental Association. Alpha Omega Dental Society
SOME PROFESSIONAL HISTORY: After achieving my DDS, I began my career in Toronto, which is also where I was born and raised. After practicing for 5 years in Canada's brutal cold, I decided that I wanted to be a dentist in South Florida. So I moved to Miami and practiced dentistry for another 12 years.
I joined Shapiro Family Dentistry in 2019 and haven't looked back. Working as a Palm Beach dentist in a multi-specialty practice gives me the opportunity to work with the latest technological advances in dentistry. Plus, I can continue to perfect my skills alongside the very best dentists in South Florida.
PROFESSIONAL GOALS: I have a strong commitment to my work, to my patients, and to the individual needs and concerns of each patient. I strive to provide exceptional dental care, to be a careful listener, and to always explain why my recommendations for dental treatments fit their individual needs. I am also committed to staying abreast with the latest techniques and state of the art technologies, and take continuing education classes regularly.
ON A PERSONAL NOTE: When not practicing general dentistry, I spend my free time playing sports. I especially enjoy golf and baseball, and can be found spending time with family and friends.
Great Financing Options
to help our patients smile
Request an Appointment
We're excited to welcome you to our practice! Call us today to schedule your appointment and get started.