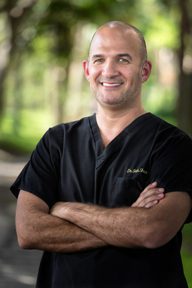 Seth A. Shapiro, DDS
Shapiro Family Dentistry
SPECIALTIES, TRAINING & AREAS OF PRACTICE:: Cosmetic. Reconstructive and Implant Dentistry. Oral Maxillofacial Surgery.
EDUCATION: DDS. New York University College of Dentistry; Hospital Dentistry. Brooklyn Jewish Hospital
PROFESSIONAL MEMBERSHIPS: International Congress of Oral Implantologists, International Dental Implant Association.
ON A PERSONAL NOTE:: My wife and 2 beautiful daughters and the greatest group of friends one can imagine. I am a 2nd Degree Black Belt in Taekwondo and get to train alongside my daughters.
PROFESSIONAL GOALS: My goal is to deliver exceptional aesthetic and functional results to our patients with minimal to no discomfort. A smile is your greatest asset and even if you weren't born with perfect teeth, we make sure you leave our office satisfied and with a beautiful smile. Our work with dental implants allows our patients to free themselves from the misery of dentures, restoring their confidence and get back to eating what they love. Team Shapiro will spare no expense in delivering the most advanced, state of the art and comfortable care.
Great Financing Options
to help our patients smile
Request an Appointment
We're excited to welcome you to our practice! Call us today to schedule your appointment and get started.