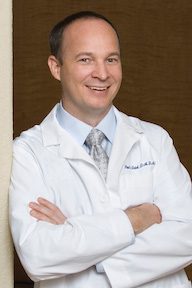 Paul D. Fotek, DMD MS
SPECIALTIES, TRAINING & AREAS OF PRACTICE: Periodontology and Dental Implant Surgery
EDUCATION: Poland. 2007 Certificate in Periodontology and Master of Science degree from the University of Michigan School of Dentistry. Residency: University of Michigan
While at Michigan, he was trained to perform Wilckodontics® and completed the Misch International Implant Institute surgical training. Obtained State of Michigan dental license, State of Florida dental and Conscious Sedation license.
Passed a rigorous oral and written exam to be an American Board of Periodontology accredited periodontist, the highest attainable academic achievement a periodontist can have.
PROFESSIONAL MEMBERSHIPS: American Academy of Periodontology; American Board of Periodontology; American Dental Association; Florida Dental Association; Atlantic Coast District Dental Association; International Team for Implantology; Director of the Spears Study Club in Palm Beach Gardens, Former President of Central Palm Beach County Dental Association
GREATEST PROFESSIONAL ACHIEVEMENTS: Clinical and Surgical Instructor and later awarded a teaching fellowship as a periodontist, completed after residency at the University of Michigan. He also practiced at the VA Ann Arbor Hospital. Published author on the periodontal-dental-implant interrelationship in several dental journals.
Dr. Paul Kotek joined our practice in February 2018 and has since become a terrific addition to Team Shapiro.
Great Financing Options
to help our patients smile
Request an Appointment
We're excited to welcome you to our practice! Call us today to schedule your appointment and get started.