12 things every parent should know about
Invisalign
teen
®
Have you been debating whether to try Invisalign teen® instead of traditional braces? We've answered some of the most frequently asked questions to help you make that decision!
How is Invisalign teen
®

different than regular Invisalign

®

?

Invisalign teen and Invisalign are the same base product– clear, retainer-like aligners that slowly move teeth utilizing consistent pressure. However, Invisalign teen has slightly different features for younger patients:
Invisalign teen has "eruption tabs" to allow your teen's teeth to grow into perfect position.
Invisalign teen uses compliance indicators (blue dots) that will only fade if your teen wears them for 2 full weeks as prescribed. So you will know if your teen isn't wearing them.
Invisalign teen includes 6 sets of replacement aligners at no charge. Mistakes happen, so we make sure you're covered!
Invisalign teen comes with the Invisalign teen Guarantee! You have 6 months to switch to traditional braces at no charge if Invisalign isn't working for your teen
How old should should my child be to use Invisalign teen
®

?

Invisalign teen is designed for adolescents aged 13 to 19, however patients as young as 11 have successfully begun treatment. And since every child's mouth develops uniquely, Shapiro offers a free invisalign consultation to determine whether your child is ready for treatment.
Do they work for all types of alignment issues?
Invisalign teen works as effectively as braces to solve mild to severe cases of crooked teeth and alignment issues. It is best to schedule a consultation so we can help determine if Invisalign Teen would be a good fit. You can also submit a smiling selfie through our Invisalign SmileView to see what an Invisalign treatment can do.
What does treatment time look like?
Treatment duration is typically 1-3 years, depending on how complex your teen's case is and whether they follow daily usage guidelines.
During treatment, patients wear each set of aligners for a 2-week period, no less than 20 to 22 hours a day. They then move to the next (slightly different) set of aligners. Checkups are scheduled every 4 to 6 weeks.
Keep in mind that treatment duration depends heavily on whether your adolescent wears Invisalign teen for the recommended 20 to 22 hours a day. Otherwise, treatment can take considerably longer. So before starting treatment, make sure your teen is responsible enough to make that commitment.
How will I know if my teen isn't wearing them?
Invisalign teen uses a blue dot indicator that gradually fades over the 2-week period each set is worn. If your child is not wearing the aligners for 20-22 hrs per day, the dot will not be fully faded when it's time to move to the next set of aligners. Additionally, when you go in for a checkup, the orthodontist can see whether the teeth have shifted appropriately.
To avoid increasing your child's treatment duration and potentially having to switch to traditional braces, make sure they follow usage guidelines!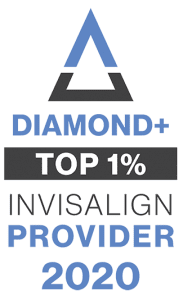 Take a smiling selfie and we'll show you what an Invisalign® treatment can do for you.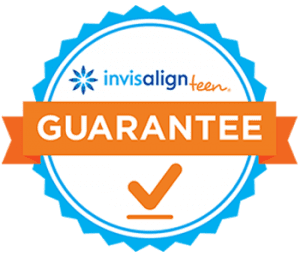 What happens if an aligner gets lost or breaks?
Since Invisalign teen is removable, it's possible that an aligner could get lost or break. Thankfully, the cost of Invisalign teen includes up to 6 free aligner replacements!  Simply contact Shapiro to order a replacement at no additional cost. If it's close to moving to the next stage, Shapiro may decide to just move up a little early. Always ask and don't move up faster than recommended!
Are they comfortable?
Invisalign teen doesn't attach to the teeth or cut into the mouth like traditional braces can,  so in theory- yes, they're comfortable! The removable clear aligners are shaped to the teeth and fit comfortably over them. However, like traditional braces, Invisalign uses pressure to gradually move teeth, so some discomfort will occur.
What can/can't I eat?
Invisalign teen requires no dietary restrictions! Unlike traditional braces, Invisalign teen is taken out while eating, so there's no need to worry about brackets popping off or coming loose! Simply remove the aligner prior to eating, brush your teeth after you eat, and pop them back in! Just make sure to clean your aligners as part of your routine.
Are they more expensive than regular braces?
Short answer: no. Invisalign teen and braces costs are roughly the same cost. However, it greatly depends on the severity of the case and what you specifically need. Here at Shapiro we offer a wide range of financing options such as Care Credit, LendingClub, GreenSky, Shapiro Family Smile Membership Discount Program and accept numerous insurances. Check out or financing options for more information and to see if your specific insurance is accepted.
Can I switch to regular braces if it isn't working?
Yes! The Invisalign teen Guarantee allows you to switch to traditional braces at no cost within the first 6 months of treatment if you're not happy with the results or think braces would be a better fit for your teen. The Invisalign teen Guarantee is here to protect you and make sure your child gets the best treatment for their lifestyle and needs.
Does my insurance cover them?
In most cases, yes! We accept a great number of insurances. Invisalign also has payment plans starting under $100 a month. As of 2018 some insurance coverage is between 25 and 50 percent of the total fee. Check out our financing options for more information on our accepted insurances.
Why Choose Shapiro for my teen's Invisalign
®

treatment?

Dr. Dari Shapiro is proud to be among the top 1% of Invisalign Teen Diamond+ Providers in the country, which means she has more experience than 99% of all other orthodontists. So the question is– why trust your teen's smile with anyone else?
Great Financing Options
to help our patients smile
Request a Consultation
We're excited to welcome you to our practice! Call us today to schedule your Invisalign consultation and get started.