Take a smiling selfie and we'll show you what an Invisalign® treatment can do for your teen.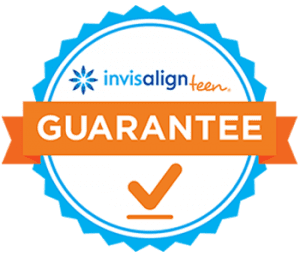 12 Things Parents Should Know About Invisalign Teen
How does invisalign Teen work?
Invisalign Teen, for ages 13 to 19, is a progressive clear aligner process specifically for teenagers. The aligners, like retainers given after traditional braces treatment, slowly move the teeth through consistent pressure. There are checkups scheduled about every 4 to 6 weeks. Each aligner set is worn for about 2 weeks and then changed to the next step.
How are they different than regular Invisalign?
Invisalign Teen and Invisalign are the same base product but work differently! Invisalign Teen has a small dot on the back of the Teen aligners to help the orthodontist see how much you're actually wearing your aligners and decide when it's time to change them! Also, Invisalign Teen offers more replacement aligners because of how active a teen's lifestyle is. Mistakes happen, so we make sure you're covered!
Do they work for all types of issues?
Invisalign Teen works as effectively as braces to solve mild to severe cases of crooked teeth and alignment issues. It is best to schedule a consultation so we can help determine if Invisalign Teen would be a good fit for you. You can also submit a smiling selfie through our Invisalign SmileView to see what Invisalign treatment can do for you.
Are they comfortable?
Invisalign doesn't attach to the teeth like braces so in theory, yes, they're comfortable! The removeable clear aligners are shaped to the teeth and fit comfortable over them. However, they are gradually moving the teeth so some discomfort can occur.
How long do you need to wear them?
Invisalign straightens teeth with a series of clear aligners. They are worn for 20 to 22 hours a day and easily removeable so you can take them out for band or sports practices. Since they are removeable, it is important the teen be responsible and be trusted to wear them enough for them to shift the teeth at the correct rate.
How do I know if my teen is wearing them?
Invisalign Teen has a blue dot indicator that shows when it is time to switch. If the blue dot has not worn down in the allotted time frame, it will be obvious they are not being worn properly. Additionally, when you go in for a checkup, the orthodontist can see if the teeth have shifted appropriately or not so make sure you're wearing them! Not wearing them could cause you to wear them longer or even switch to traditional braces.
What happens if one gets lost or breaks?
Since Invisalign is removable, it's possible that an aligner gets lost or breaks. In this case, you can order a replacement, which is covered for Invisalign Teen. If it's close to moving to the next stage, the orthodontist may decide to just move up a little early. Always ask and don't move up faster than recommended!
What can/can't I eat?
With Invisalign, there are not dietary restrictions! Any time braces are worn, there is an increased risk for cavities because there are more areas for plaque to develop and food to be trapped but with Invisalign, that's not an issue! The aligners are worn 20 to 22 hours a day which leaves plenty of time to eat whatever your heart desires – just make sure to brush your teeth.
Are they more expensive than regular braces?
Short answer: no. Invisalign and braces costs are roughly the same. However, it greatly depends on the severity of the case and what you specifically need. Here at Shapiro we offer a wide range of financing options such as Care Credit, LendingClub, GreenSky, Shapiro Family Smile Membership Discount Program and accept numerous insurances. Check out or financing options for more information and to see if your specific insurance is accepted.
How long does treatment take?
Invisalign Teen treatment takes 12 to 18 months depending on how complex your case is and how often you wear your aligners. If you aren't wearing them for the 20 to 22 hours a day, it can take longer so make sure you're wearing them!
Can I switch to regular braces if it isn't working?
Yes! If you're not happy with the results within the first 6 months or you think braces would be a better fit for you or your teen, you can switch at no extra cost! The Invisalign Teen Guarantee is here to protect you and make sure you get the best treatment for your lifestyle and needs.
Does my insurance cover them?
In most cases, yes! We accept a great number of insurances. Invisalign also has payment plans starting under $100 a month. As of 2018 some insurance coverage is between 25 and 50 percent of the total fee. Check out our Financing page for more information on our accepted insurances.